Hello everyone!
Weeks back dodolashes sent me a pair of their lashes which is model number#D105.
In actuality, I am not so much into makeup stuff or I would to say that I go for the stuff in which I feel comfortable. I don't even go for eyeliner because TBVH I suck in applying eyeliner (sigh!) , but yes mascara is my thing! so guys for a girl who can't apply eyeliner properly,lash sticking and setting was a big mission for her!
But still I took a heavy breadth and said to myself "yes,you can do this give them a try" and after approx 30 min I did it and the lashes were finally on my eyes and I felt like a Goddess*HAIR FLICK*  (vainglory at its peak) .
Lets take look into this brand,
•About DODOLashes!
According to the DODOLashes website, the prices are so reasonable because these lashes come directly from the factory source. The lashes are handmade, cruelty-free and are sourced from naturally shed mink fur that's 100% sterilized before use. Shipping is available worldwide and costs $5, with free shipping available for purchases over $30. The lashes come from China.
•Packaging!
The packaging is very  basic. The bands of these lashes are a little thicker and not so delicate. Also the band on the lash line is thick so this could be used multiple times!
•My Thoughts!
I didn't knew the meaning of mink before they arrived and thanks to google for telling us each and everything.Mink is basically,
And after knowing it my reaction was something similar like a GIF below because i got to know this after applying them!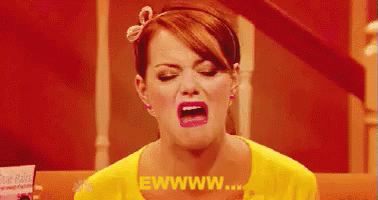 Apart from everything these are pretty light weight and my eyes were actually looking wider than before also I was comfortable in them after some minutes but still that GIF describes my feelings actually! I can't say anything about their cruelty free feature though the company itself says that their products are 100% cruelty free and mink! And its not a bad idea to have a pair of lashes with you,you girls should go for them.
Also if you guys want a pair of these lashes you can avail 5% discount on your order  by using my code " RAMBLINGSOFALAZYGIRL" at checkout!
That's a treat for all of you!
Head over to their website to know more!
Till next time,
Much love for everyone out their! ♥
---
*This is a sponsored post and all views on the product(s) and some pictures are by me !